About the Career & Technical Center
As the economy continues to evolve, employees are expected to read, write, and communicate effectively, think critically, solve problems and interact with each other in the workplace. We have adopted these practices in order to produce graduates who can enter and advance in the changing work world.

The Holly Springs Career and Technical Center provides opportunities for high school students who want to enhance their academic studies with specialized training in competitive fields. Our programs are designed to produce students who are capable of adapting to higher education settings and are ready to meet challenges as competent adults in any occupation they choose, thus developing students that can compete in the global community.

Description of CTC Programs
Business, Marketing, and Finance
Business Fundamentals
provides instruction in basic business skills and knowledge related to economic fundamentals, management, communications, finance, human relations, career development, ethics, and business etiquette.
Marketing provides instruction in marketing skills, related sales operations, merchandising, and human relations. Students will develop skills toward meeting requirements for the Microsoft Project Skill Standards for Microsoft Office Specialist Certification.
The Health Sciences (Core) course introduces students to the theory and practical applications of tasks related to employment in the field of health science. Students will cover topics such as safety in the workplace, infection control, health care systems, and the vital organs of the human body. The course offers insight into careers in health care as well as educational requirements and the profession-al, legal, and ethical responsibilities involved.
The Healthcare and Clinical Services course helps the student establish insight in the healthcare field. Students will be exposed to the theory and applied tasks related to careers within health care. This course covers topics such as human growth and development, health informatics, information technology, and therapeutic and rehabilitative services. Other topics include medical and emergency services, mental health, and pharmacological and nursing services.
Welding is an instructional program that prepares students for employment or continued education in the occupations of the welding field. The curriculum framework for this program was developed in partnership with the Mississippi Construction Education Foundation (MCEF). MCEF is the accredited sponsor for the National Center for Construction Education and Research (NCCER).

The Law and Public Safety career pathway focuses on the history of law and legal systems in the United States. Students will leave the program with a firm foundation of knowledge in these areas. Additionally, students will learn the importance of personal health and safety in the work environments associated with law and public safety. Students will also be introduced to the emergency services found in local communities. Additionally, students will focus on corrections in the state of Mississippi, studying specifically how jails and prisons function. Students will learn the specialized areas and topics within the law and public safety arena.

Teacher Academy
is
a pathway for students in the Human Science, Art, and Humanities career cluster. The Teacher Academy program is a high school course designed to attract students to the field of education, to provide information and field experiences relevant to pursuing a degree in education, and to prepare students for the rigors of a career in education so they will remain long-term educators. The Teacher Academy pathway includes classroom and hands-on experiences that will prepare students for employment or continuing education in the education field.
Each program is designed to be a 2-year program; upon successful completion of a program, students will earn 4 credits toward graduation. Through these programs, students will learn valuable skills needed to pursue a career in the selected field post high school.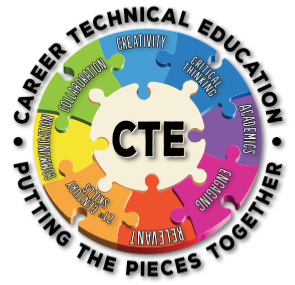 Dropout Prevention: CTE students are more motivated and interested in their coursework because of its connection to the real world and are less likely to dropout.
Better Career Prospects: CTE students participate in programs that lead to employment in high skill, high wage, high occupations or professions.
Credentialing: Students can earn various credentials to be more marketable in the employment arena and better prepared to succeed at the post-secondary.
Graduation Credits

Certified Nursing Assistant

Teacher Academy Dual Enrollment

NCCER Certification in Welding

Workkeys

College Credit: Students may qualify for hours of college credit towards an associate degree based on the CTE coursework completed. Ask the counselor or a CTE teacher about articulating college credit at the local community college and College and Career.
21st Century Occupations:
Healthcare is expected to make up 7 of the 20 fastest growing occupations

Science, Technology, Engineering, and Mathematics (STEM) prepares for the critical need areas of engineering and computer science.
The Holly Springs Career & Technical Center and the Holly Springs School District does not discriminate based on race, color, religion, national origin, sex, age, or disability in the provision of educational programs and services or employment opportunities and benefits. The following office has been designated to handle inquiries and complaints regarding the non-discrimination policies of the above-mentioned entities.
Inquiries regarding compliance contact :
504 Coordinator or Assistant Superintendent/Federal Programs
840 Highway 178 East
Holly Springs, MS 38635
Phone:662.252.2183